Welcome To Macqueens of Rothesay
A Traditional Family Butcher
Macqueen the butchers is situated on the island of Bute on the west coast of Scotland. Today it is a busy vibrant shop run by brothers David and Ronald Macqueen who are continuing on the family butcher business established by their father Alastair M Macqueen in 1976.
This traditional butchers shop is situated on Bishop Street in the town of Rothesay and is close to the ferry terminal and new marina. The shop is renowned with the locals and visitors for its friendly atmosphere and outstanding service.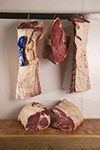 Quality Local Produce
Bute beef is sourced from farm assured farms and the beef ranges from cross breeds to traditional breeds they are supplied from farm the likes of Little Kilchattan, Scalpsie Farm. With the very best Bute lamb coming from Ardmaleish farm and also Scalpsie. Macqueens are the only outlet for the fantastic Highland beef from Inchmarnock Island. These beef cattle are very special as they roam free alone on Inchmarnock grazing on the natural, glover-rich grass. The flavour of this meat has to be tried as it truly is second to none.
Beef is hung for a minimum of 21 days.
Prepared using traditional skills
David and Ronald with a lifetime of butchering skills and knowledge behind them understand the importance of the quality of produce and highest standards.
Their black puddings haggis and steak pies which they are very proud of indeed all made by hand on a daily basis.
The shop supplies many fine hotels in the area, and can offer a mail order service on many individual products and a courier service on our select meat hampers. To the customer looking for flavour and quality at competitive prices.
May Special, Spend £100 and receive 2 Chicken Fillets stuffed with our Haggis
National Delivery is only £8
Local Delivery is free of charge
Inchmarnock Highland Beef is back on the menu
Chicken Quarters stuffed with Organic Sage & Onion.
Chicken Breast glazed with Spanish Grill oil.
Chicken Breast glazed with Indian Grill oil.
Haggis Olives brushed with Smokey Grill oil.
Lamb Kebabs.
Sicillian Sausage's
Honey & Mustard Sausage's
Steak & Cracked Black Pepper Sausage's
New Season Lamb Burger's
Tandoori Lamb Burger's
Quarter Pound Venison Burger's 95% lean
Quarter Pound Hamburgers 85% lean
5" Seeded Burger Buns